Talk 2 Tamsin | Counselling Service
Building A Brand To Take Top Position For A Highly Respected Relationship Counsellor In Nelson
Talk 2 Tamsin is a confidential counselling and coaching service that helps teach individuals and couples the tools and strategies they need to facilitate positive change. Based in Abel Tasman, Tamsin had an excellent reputation in her field, but was looking to expand her business to those who weren't in the industry.
Tamsin's brief was clear. She wanted to develop an eye-catching brand for her services and expand her business into the digital sphere. She wanted a clean crisp design for her business, that was inspired by the natural beauty of the Abel Tasman region. She required a brand that would show her clients her warm and approachable nature, and an online space that would highlight her level of expertise, with the main purpose of generating more clients through online media.
Beautiful Brand, Inspired By Nature
Before working with us, Talk 2 Tasmin had no branding, strategy or digital marketing at all. We created a visual identity that took inspiration from her warm, approachable demeanor and reflected the peaceful colours and elements found in the stillness of nature.
A Website To Convert Traffic Into Clients
Using the visual brand identity, we created a modern website that highlighted Tamsin's many years of experience and expertise. We built the site with a focus on SEO to attract organic search engine traffic. With the website finalised, we setup and optimised her social media profiles and consulted with Tasmin on what content she should deliver to her new client base.
Ranking Over 30 Keywords in Google Top 3 in 12 Months
With the foundation in place, now was the time to grow her business. We developed a list of highly targeted keywords to rank for and the team worked hard to bring in more bookings. After a couple of months, her website was outranking her competitors' sites on the highly targeted keywords we chose and she is now ranked at #1 for the majority of her main search terms.
A Website That Blends Beautiful Design and Functionality
Talk 2 Tamsin had no existing website which allowed us to build an entirely new one from scratch. We expanded Tamsin's branding identity into the new website and used hierarchical copy, combined with a stunning design to draw users through the site. We optimised the copy for SEO and used specifically chosen keywords throughout the site to reach her target audience. Visitors now have all the information they need to get to know Tamsin and make an appointment for a range of services.
Clean, crisp website copy that engages, educates, and encourages visitors into action
Keyword specific titles, header tags, meta tags and alt tags set up on every page
Site optimised for SEO and targets organic traffic through use of highly specific keywords
Contact details are clearly displayed, and users are led towards making an enquiry
Brand identity pulled through to tie all elements of her brand together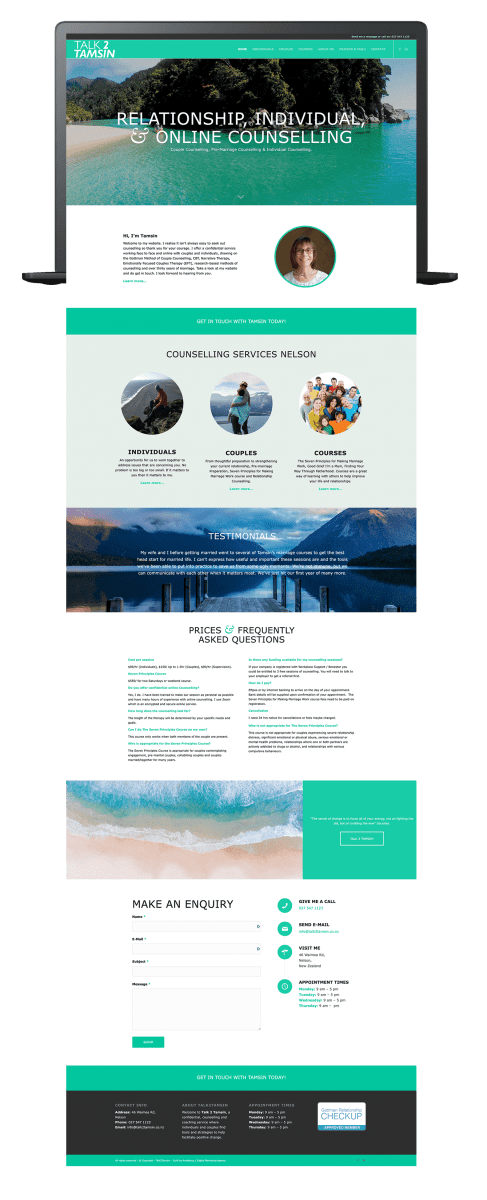 "I found it a pleasure to work with the team at Ambitious Digital. Jonathan listened carefully to what I had in mind and I was delighted with the concepts he came up with. My brand and website are a wonderful fit for my business and both are innovative and unique. I highly recommend Ambitious Digital to anyone who would like their business brand to stand out in the community."

Tamsin Ferlicity

Talk 2 Tamsin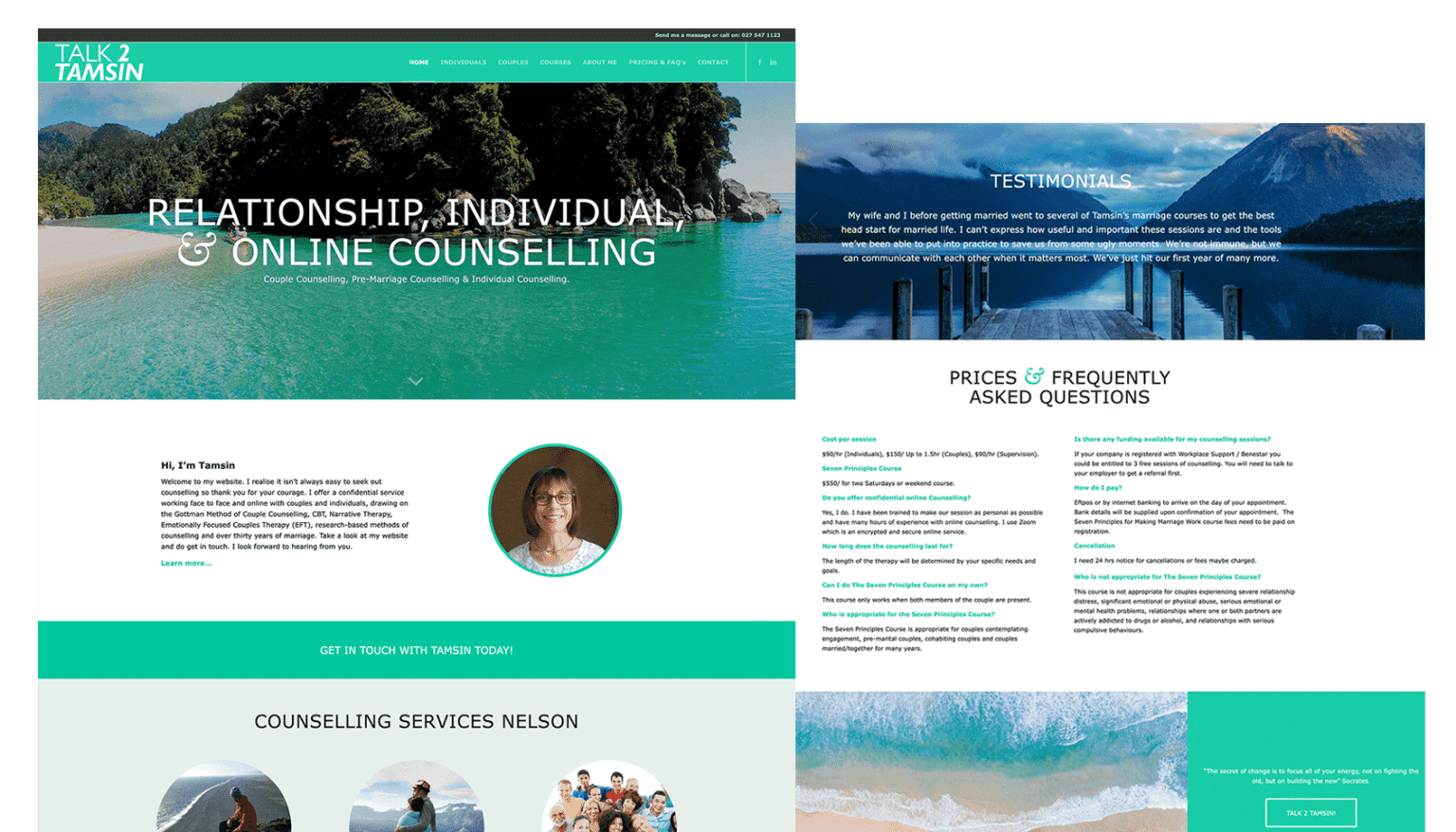 After implementing a beautiful brand, responsive website and creative SEO strategy – Talk 2 Tasmin has fast become the most sought-after relationship counsellor in her region. She is now fully booked for months in advance and has branched out to working with clients all across New Zealand.
New Organic Website Users Per Month
Keywords Ranking On The First Page Of Google
Increase In Client Bookings